Yev's Jewelry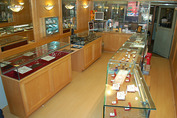 Name: Yev's Jewelry
Address: 7750 SANTA MONICA BLVD, WEST HOLLYWOOD, CA 90046, United States
(view on map)
Phone number:
Years in business: 32
License number: 1900-0858
E-mail: yevjewelry@gmail.com
About Us
"My goal is for you, the customer, to leave happy. If that means we have to pay more, then so be it. We specialize in high end items like Rolex, Hublot, Panerai, Breitling, and other high end watches we also take all types of jewelry, gold, or platinum. Our GIA staff is always here to help you get as much as possible for your diamond jewelry. Memorabilia and art are also items we give cash loans on. Our deals on jewelry can not be beat or matched. From Tiffany & Co. to David Yurman, we have it all. We are open 7 days a week. Stop by and we can do free appraisals and free authentications. Remember, WE ALWAYS PAY MORE!" - Yev, owner.
Pictures